Kids InfoBits meets the research needs of K-5 students. It features a visually graphic interface, a subject-based topic tree search and full-text, age-appropriate, curriculum-related magazine, newspaper and reference content for information on current events, the arts, science, health, people, government, history, sports and more.
Kids InfoBits Scavenger Hunts: "Digging" "Dreams"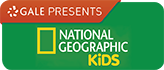 Tutorial Video - the Basics (6 minutes)

Reputable, authoritative, and appropriate content that brings children aged 6-14 the world in a way they've never seen it before. Fun and substantive, National Geographic Kids will take them on amazing adventures in science, nature, culture, archaeology, and space.
Age-appropriate features for grades K-5 to start building key research skills. Articles, images, videos and many other engaging tools encourage students to discover more content within Britannica School.

For ages 4 to 7, Learning Zone is a classroom-tested, interactive learning environment. Age-appropriate, play-based activities—an interactive atlas, online art activities, games, videos, and vocabulary builders—teach colors, geography, numbers, shapes, sounds, time, and words.
Tutorial Video (4 minutes) in Spanish

Younger students will use Britannica Escolar Online, with its Spanish elementary encyclopedia, images, videos, Workspace, an atlas, and interactive Learning Materials.